AUTO-DRAFT

®

RT-SERIES CHIMNEY FANS
With the Auto-Draft® Chimney Fan your hard starting or back-drafting fireplace, stove, BBQ, or heater draws immediately and perfectly every time. Great for chimneys that are too short or that face heavy winds. Enjoy fires without the smoky back up--even with moist or hard to ignite types fuels. Once the fire is burning, adjust the variable speed control knob to achieve maximum efficiency. Great for noise sensitive installations. Connects easily with metal or tile lined flues. Lower power consumption even at full speed. The RT-Series Chimney Fans are the only fans rated for 1000° F (538° C), more than twice the temp rating of competitors. We guarantee satisfaction with our (1) Year Unconditional and (2) Year Mechanical Warranty.
Auto-Draft® Fan Features:

RT750H & RT1500H Include Speed control

PSC ball bearing motors with -40°F low temperature lubricant

Patented motor cooling system automatically activates, extending motor life

Clamshell design for easy installation, inspection and service

High performance backward inclined impeller repels soot

High temperature powder coat finish

Chimney fan demo unit available for testing on your own chimney. Contact atjernlund@tjfans.com for deposit and rental details.

Rooftop Chimney Fan
Support Documents

---
| | |
| --- | --- |
| Click on the video to watch the Rooftop Chimney Fan highlights. | |






---
AUTO-DRAFT

®

MODEL AD-1 INDUCER FAN FOR WOOD OR COAL STOVES
With the Auto-Draft your hard starting stove draws immediately. No smoky back up--even with moist or hard to ignite types of wood. Once the fire is burning, adjust the variable speed control knob on the electrical box to achieve the maximum efficiency of your stove. The Auto-Draft provides for total utilization of your wood, leaving only a fine ash residue in most cases.

Fits Most Wood or Coal Burning Stoves

The Auto-Draft can be installed on any wood or coal burning stove pipe 5" to 8" in diameter. It is designed to solve draft problems without increasing the height or diameter of the chimney.





Model AD-1 Advantages
Eliminates Smoke
Starts Fires Fast
Utilizes Fuel Efficiently
Broadens Ranges of Usable Fuels
Operates on Standard 115 VAC

Easy to Install (15 Minutes)
Constructed of Heavy Duty Materials
Minimal Maintenance
Rich, Heat Resistant Finish
Maximum Energy Efficiency
Specifications
Dimensions
Electrical
Height
9 1/2"
Voltage
115 VAC
Width
9"
Motor RPM
1200-1600
Depth
7"
Motor HP
1/14 (open)
Fits
5-8" Pipes
Motor Amps
1 (max.)
---
HO
T SHOT
™
MODEL SB1 UNIVERSAL STOVE BLOWER
Make your home more comfortable and get more heat from your stove!
The Hot Shot

™

Universal Stove Blower model

SB1

captures and distributes radiant heat from your stove that is otherwise wasted. The Hot Shot

™

silently pushes room air between the "Heat Capture Chute" and the stove top, warming it along the way and then propelling it into the room. Use the Directional Chute attachment and turning vanes to direct the warmed air left or right up to 45 degrees or straight to extend Heat Capture Chute. Entire rooms can be warmed fast and uniformly. Easy plug in electrical, installs without tools in minutes on most stoves.



For stoves without a heat shield, add the "Heat Shield Kit" (950-9200)



Warms entire rooms 5 times faster! Saves on energy bills!
Whisper quiet operation
Easy to install
Clips to stove's heat shield

Turn on or off with pre-wired toggle switch

Removable hood attachment to fit step-top stoves
Blends with any decor
Commercial grade, high temperature jet black finish

Low profile design rests flush with short or long top stoves
---


Optional Heat Shield Kit (P/N 950-9200)
---
Specifications

| | | | | | |
| --- | --- | --- | --- | --- | --- |
| Model | Voltage | Watts | Sones | RPM | CFM |
| SB1 | 115 | 25 | 1.15 | 1800 | 75 |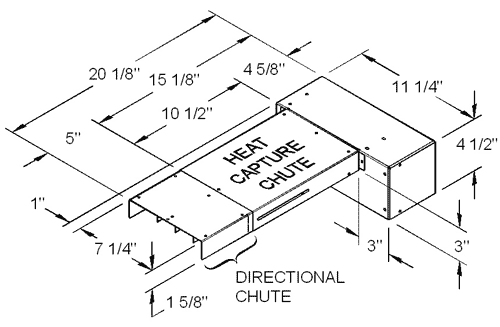 ---
AIRESHARE

™

ROOM-TO-ROOM & LEVEL-TO-LEVEL TRANSFER FANS

Make hot or cold rooms more comfortable!

The perfect companion for homes, condos, hotels & buildings with:

• Split System or Window A/C

• Space Heaters, Stoves & Fireplaces

• PTAC & Ductless Heating/Cooling

• Electric Baseboard

AireShare™ AS1, AS1P & AS2 Room-to-Room transfer fans pull cool air from floor level or warm air from ceiling level and distribute high or low.

AireShare™ ASLL Level-to-Level transfer fans pull warm or cool air from one level and distribute up or down.






---
AireShare

™

Room-to-Room Transfer Fans (Models AS1, AS1P & AS2)
Move air Room-to-Room. The blower and diffuser can be mounted either high or low on the wall. Pull cool air from floor level or warm air from ceiling level and distribute the air high or low. Choose either the hard-wired version and activate it off of a wall switch or thermostat or the plug-in version with a switch on the unit. Grilles included.

Pull air from any level and
distribute high or low.


| | | |
| --- | --- | --- |
| | | |
| Model AS1 | Model AS1P | Model AS2 |

---

AireShare™ Level-to-Level Transfer Fan (Model ASLL)
Move air Level-to-Level. This unit can either blow air up to a higher level or, when installed in the opposite orientation, down to a lower level. Move stove or fireplace heat up or down a level or move cool air from a basement up to the main living space. Hard-wired. Can be activated by switch on unit or wired with a wall switch or thermostat. Grilles included.



Model ASLL


Click to Watch

---
---
IN-FORCER

™

MODEL FAI4 FRESH AIR INTAKE
THE PROBLEM:
Energy-conserving homebuilding materials and techniques minimize fresh air intake...a major cause of illness, discomfort and structural damage.
THE SOLUTION:
The IN-FORCER mechanically draws outside air indoors to dilute pollutants and replace stale air without sacrificing energy savings.
The FAI4 Powered Air Intake provides a simple and economical way to provide fresh, outside air to dilute trapped pollutants and replace air vented by exhaust fans and fuel burning equipment. Plug into a switched outlet, use a remote on/off switch or a plug-in timer to operate on a desired schedule. Standard 4" flex or metal duct may be used for ducting. The efficient 75 CFM fan consumes only 18 watts.

The IN-FORCER™ model FAI4 offers all these advantages

Affordably priced and installs fast. Plugs into electrical outlet.
Reduces cold drafts through windows, doors, fireplaces caused by excessive negative pressure.
Reduces negative pressure a major cause of flue gas spillage and radon gas entry.
Reduces moisture, mold mildew buildup.

Increases security--fresh air can be brought

in even when windows and doors are locked.

Helps replace air vented by exhaust fans, fireplaces, etc.


FAI4 Specifications

Dimensions
Electrical
Intake Hood Inlet
4"
Voltage
115 VAC
FAI4 Inlet/Outlet
4"
Motor RPM
2800
Air Flow
Motor Watts
18
CFM
75
Motor Amps
.2